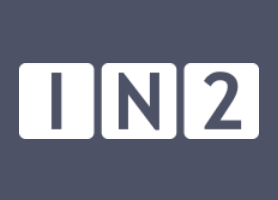 Main contact
Dr George Ioannidis
Country: Germany
Field of expertise / NGI Topic: AI
Organisation type: SME
Organisation's full legal name: IN2 Digital Innovations GmbH
---
NGI-related portfolio (solutions,projects, platforms, etc…) MyMeedia (https://in-two.com/platform) A content platform you were always looking for: intelligent, modular, flexible with a powerful AI for content indexing, & analysis, customisable workflows & components and unlimited API access for your own developers Tellit (https://tellitapp.com/about) A storytelling platform that builds upon the power of social media and your own content to create stories in real-time as they happen. Havealook (https://havealook.me) A visual tool to privately shared resources on the fly. Co-share photos, media and files with your clients, friends and collaborators via a private link or by email and let them have a look. CAP-A (https://cap-a.eu) CAP-A is a project belonging to the Next Generation Internet (NGI) initiative and aims to deploy a socio-technical solution based on collective awareness in order to improve the way digital privacy is treated by digital applications and services. The project will deliver a global repository of consumer- and developer-generated content about the privacy behaviour of digital products, along with tools that will help consumers understand the Terms of Service and their implications via crowdsourced approaches and visual cues. MIXTAPE - the podcast search engine In MIXTAPE we aim to improve the way podcasts are searched by allowing listeners to find content based on topics of interest. For the first time it will be possible to find individual podcast episodes based on your preferences and precise interests. To enable this we will be using speech processing and natural language understanding adding these key components to our existing content management platform.
NGI focus areas for experiments privacy, discovery, portability, other,
Field(s) of expertise / NGI Topic AI
Other: Search and Discovery
Other Field of expertise / NGI Topic Discovery and Search, Privacy Enabling Technologies
Do you have any early evidence of your project, platform, that you wish to share? We are interested to build local and ephemeral social networks. One of our previous projects was Say Hello, an experiment of the ICT-FLAME project. Say Hello is the result of DIGI-HI (Digital Companion for Localised Interactions) a project within ICT-FLAME. It is an application for festival attendees for creating and locally sharing mix-media stories using the FLAME infrastructure. Say Hello brings forward a closer integration of location and time, two components that we think are essential for social interaction and community building. In this context, we have tested out our ideas about ephemeral and local social networks and gathered valuable feedback for providing a minimum viable product in this area. What made this project very special was that the entire Say Hello app was exclusively deployed in a distributed fashion on the edge network, right on the street, thus having a number of advantages over a more classical cloud-based app. We consider the deployment of 5G technologies as an enabler for such kind of social networks and a unique opportunity that will divert the attention from global centralised platforms to open, private, local, ad-hoc communities. More information at: https://www.ict-flame.eu/open-calls/2nd-flame-open-call/digi-hi/ Video: https://www.youtube.com/watch?v=Cvwz33aUHCo
Which kind of experiments would you like to see funded via NGIatlantic.eu Open Calls?
Search and Discovery, Storytelling, hyperlocal and temporally bound social networks