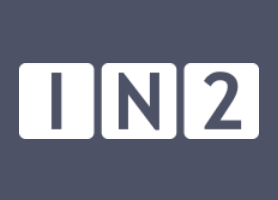 Main contact
Dr George Ioannidis
Organisation: IN2 Digital Innovations GmbH
Organisation Type: SME
Address: Lindau (Bodensee)
Country: Germany
---
Field(s) of expertise / NGI Topic:
AI
Big Data
Discovery and Search, Privacy Enabling Technologies
NGI focus areas for experiments:
Privacy and trust enhancing technologies
Discovery and identification technologies
Service and data portability
Search and Discovery
Your NGI-related portfolio: MyMeedia (https://in-two.com/platform) A content platform you were always looking for: intelligent, modular, flexible with a powerful AI for content indexing, & analysis, customisable workflows & components and unlimited API access for your own developers Tellit (https://tellitapp.com/about) A storytelling platform that builds upon the power of social media and your own content to create stories in real-time as they happen. Havealook (https://havealook.me) A visual tool to privately shared resources on the fly. Co-share photos, media and files with your clients, friends and collaborators via a private link or by email and let them have a look. CAP-A (https://cap-a.eu) CAP-A is a project belonging to the Next Generation Internet (NGI) initiative and aims to deploy a socio-technical solution based on collective awareness in order to improve the way digital privacy is treated by digital applications and services. The project will deliver a global repository of consumer- and developer-generated content about the privacy behaviour of digital products, along with tools that will help consumers understand the Terms of Service and their implications via crowdsourced approaches and visual cues. MIXTAPE - the podcast search engine In MIXTAPE we aim to improve the way podcasts are searched by allowing listeners to find content based on topics of interest. For the first time it will be possible to find individual podcast episodes based on your preferences and precise interests. To enable this we will be using speech processing and natural language understanding adding these key components to our existing content management platform.