NGIatlantic.eu fourth Open Call: applications and winning proposals!
NGIatlantic.eu is pleased to provide an overview of the successful projects funded under its Open Call 4, the penultimate in a series of 5 open calls launched under this H2020-funded project, to incentivise collaboration on NGI topics through the 2.8 MEuro earmarked to support the work of the EU components of teams of EU and US researchers that successfully applied to each call. 
On the US side, thanks to sound commitment to the initiative and funding from the US National Science Foundation, from Open Call 3, US Partners of the successful teams could also apply to benefit from supplementary funding through an official Dear Colleague Letter Supplemental Fund support to existing grant holders within the NSF's Computer and Network Systems Core and Secure and Trustworthy Cyberspace programs.
The topics for Open Call 4 were selected on the basis of priorities set by its Expert Advisory Group and Experiment Monitoring Team, in close consultation with the NSF. As for Open Call 3, the 4th Open Call focused on two main topic categories. The first, stream a) aimed to provide support for the interconnection of EU – US Experimental Platforms, inviting established designers and facility providers of experimental infrastructures, testbeds, and platforms that could be used for NGI experiments on both sides of the Atlantic to join forces and offer their facilities to the community of experimenters and developers in other NGI topics. The second, stream b), was aimed at taking results from topics already in a mature state in the related priority topics of the NGI initiative to the next stage of experimentation on EU – US experimental platforms and these included i) Strengthening trustworthiness and resilience of internet; ii) Greening the Internet; iii) Service and data; iv) Open Internet architecture renovation and v) Internet data sharing and interoperable services.
OC #4 PRIORITY TOPIC COVERAGE BY APPLICATION
As can be seen below, the 20 eligible proposals submitted to Open Call 4 provided both a good mix and scope in terms of priority topics addressed, with some projects also encompassing elements of both streams, as encouraged by the call, or multiple elements of topics under stream b).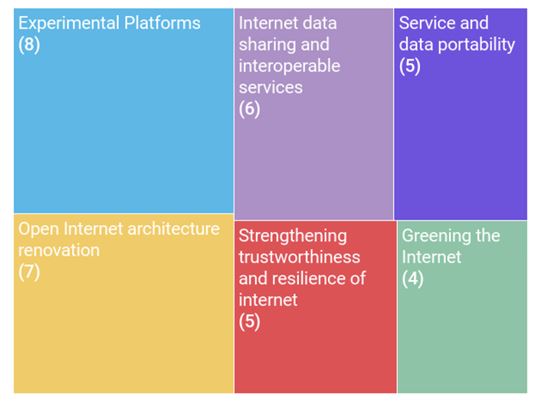 OC #4 GEOGRAPHIC COVERAGE
The proposals also provided good geographical coverage, not only in term of the EU countries represented (15) but also the range of US states (12).  An overview of the geographical origin of the 8 funded proposals is provided below:

OC #4 APPLICANT ORGANISATION TYPE
The majority of coordinating partners on the EU side were from Research and Academia, followed by SMEs. On the US side, the bulk of partners were from the Research & Academia.  An overview of both the EU and US organisation types are shown below:

OC #4 WINNING PROJECTS
Of the 1.37M euro in funding requested, NGIatlantic.eu was able to fund the eight highest ranking projects submitted to Open Call for a total of 559,249 euro.
And without further ado here are our 8 winning projects:
1. BONSAI: cross-Border experiments for OpeN data testbedS interconnection for Atlantic Interoperability Experiment
2. ARES: A Next-Generation, Erasure Coded, Shared Distributed Storage System Experiment
 3. SECOND: Securing Content Delivery and Provenance
4. Vulnerability Assessment and Robust Defenses for Optimized Attacks in Dynamic SDNs Experiment
5. Eperiment on security features of multi-provider mobile network infrastructure
6. Distributed Learning for Resilient Virtual Network Management at Scale
 7. FedIntersect: EU-US federated testbed for cross-atlantic experiments for urban smart intersections
8. Reducing Carbon footprint of Computing Systems